TOUR de Belize in the pristine remote Belize Alps!
For the Auxillou Challenge Trophy of Belize 2006
Welcome to the website of the FIRST ANNUAL EVENT for the "TOUR de BELIZE ALPS", a Mountain Bike Race through the fantastic remote scenery of the Belize Alps. The first race will be held in August, 2006.



Belize has many bicycle races. Most of which are on paved roads. This one is to the remote Belize Alps and is over dirt logging roads. The only people up in the Belize Alps are British Army Commandos and SAS jungle training soldiers who fly in from England to train here.



The race is a 3 day event and you will camp when you finish each leg. There are no facilities at the end of the first leg to the Sibun Gorge headwaters. So each bike rider must be self sufficient. Either carrying your supplies with you, or by a vehicle trailing the pack. The first leg rises from the start at the suburb of Hillview in the Cayo District of Belize in the foothills, at about 400 feet elevation to 3200 feet at the highest point in the Alps. The distance of each leg is roughly 30 miles. The road up is called Cooma Cairn Road and passes by the entrance to the 1600 ft Hidden Vally FALLS, that drops into the Roaring Creek Gorge.



The second leg is downhill, along the Brunton Trail to the Forestry village in the foothills around 800 ft elevation. Brunton Trail is very scenic. There is a government Forestry campground, with water and a small country store for supplies here. There is also the famous Rio Frio Cave a mile away and the Rio On rapids for swimming 2 miles the other way.



The third leg is return to Hillview, half of the distance being a repeat of the outbound leg through the small community of San Antonio town.



There are many logging roads up here. The main junctions will be placarded, but all logging roads lead upward to the First Stage camping area.


The PERPETUAL ANNUAL TROPHY has been donated by the Auxillou Family and will be called the AUXILLOU CHALLENGE TROPHY. This race has been a dream for at least four years by the Auxillou family and 2006 is the year we make it a reality.

Other trophies will be available for first, second and third winners overall. We are looking for donors to offer the cost of other trophies and prizes.

You can telephone Ray Auxillou in Miami at 305 685 9752, or in Hillview at Falconview Back Pack Adventure Hostel at: 663 5580.
You think your tough?

30 miles uphill, definitely drops out the WIMPS!

CLICK HERE to go to another page on the race!
CLICK HERE to go the Hostel where the race starts and finishes for more information!

local race leaving Crooked Tree, Belize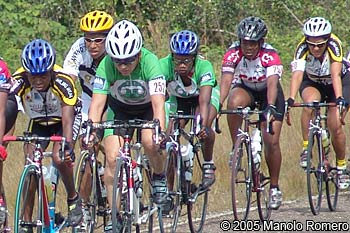 photo courtesy of Alvaro Rosado
Racing through the Belize Alps is more rugged than the regular bicycle club races. Altitude and rough logging roads require mountain bikes.

The Auxillou Family are sponsoring the perpetual annual trophy and other sponsors can sponsor station prizes and leg trophies. To contact send an e-mail to hillviewhacienda@yahoo.com

Or phone FALCONVIEW BACK PACK ADVENTURE HOSTEL in Hillview, where the race will start and finish. tel: 663 5580