My wife on fence line before fencing.
Dreams and dreams! Subtropical Florida, NO SNOW!
CLICK HERE FOR MORE PHOTOS AND INFORMATION ON RANCHETTE IN SUBTROPICAL SOUTH FLORIDA. NO SNOW!
Welcome to our website. We put the 2 1/2 acre ranchette on E Bay and the best offer we got was $50,000 when we were asking $89,000. We are this year planning to retire to our new retirement home built in Western Belize of Central America. The idea of retiring in the USA is now finished. On a pension of $700 a month we cannot afford to retire in the USA, but can live very comfortable with a higher standard of living in the twin towns area of Santa Elena and San Ignacio of the country of Belize in Central America. So plans to build here in South Florida are off. We are cashing our ranchette out. We fenced it, but it is otherwise undeveloped. We did get some nice plans for a wood house circular construction, two stories using telephone poles. We will probably build this now high in the Belize Alps as a mountain home with lovely views.
Our new home in Belize in the foothills.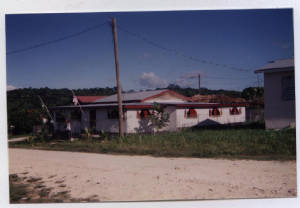 $300,000 USA and you can buy this one.