Ray Auxillou and his wife Silvia Pinzon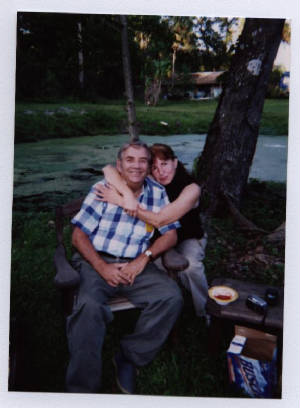 ANNUAL MAYA MOUNTAIN FOLK MUSIC FESTIVAL 2006
These are the three children chosen to receive the 2006 Maya Mountain Folk Music Festival scholarships in Marimba studies.
The Festival is organized and sponsored by Ray Auxillou and Silvia Pinzon his wife. The couple are retirees in Western Belize in the twin towns straddling the Macal River that flows out of the Belize Alps in Western Belize.

Thankyou for looking at our website, humble as it may be. We invite you to join us for the next 2006 Festival. We can book you into hotels nearby, or even have you stay in the bunk house of the dormitory for the onsite HOSTEL. If you play the Marimba, Xylophone, or Vibraphone you are doubly welcome. Our local students lack teachers and instruments. A deficit we are trying to solve. In 2007 we expect to start making MARIMBAs out of jungle hardwoods as a hobby craft industry by local artisans. A forgotten skill rejuvenated we hope? We also have enlisted a local Mayan Pottery Works to make us some clay MAYAN working musical bird flutes. In the meantime students in the local high schools are now learning to play on the plastic recorder. We also have plans to build a Belizean Lute, similar something like the Venezuelan Cuatro, but bigger and more bass. The intent, to awaken music traditions in this hinterland among a new generation of youth and create instruments for local artisans to manufacture and export on the world market. All participation is by volunteers for the Festival and arts and crafts and donations are very much appreciated. We could only sponsor three children this year to learn music, but had a dozen more worthy candidates, but lacked the financial resources.

More previous Music Festival photos. Click here!

Click here for 2005 Festival photos

Photos of the Hostel where the Maya Mountain Folk Music Festival is held in the hills of Santa Elena. CLICK HERE!

Click here for photos of a local San Jose Succotz Village Marimba band.

CLICK HERE for the 2005 Xmas Childrens music competition. They came from hundreds of miles away.

Jerry Lin 14 yrs old viewing Marimba for sale!


Silvia Pinzon would commit $600 to the purchase of this Marimba. But the widow wants $1000.

In January, 2006 we went to see the blind widow of 93 year old deceased Senor Castellanos a famous Marimba player in the border town of Benque Viejo next to Guatemala, but on the Belize side. She was asking $1500 for this TENOR 3 octave Marimba the small one and had another big Orchestra Marimba she wanted $4000 for it. Our budget was only $600 and she refused to sell. While in Miami working, we contacted Jerry our 14 year old, Music Scholarship winner via SKYPE and asked him to get his mother to go back and visit the old widow again in June, 2006. They did and made another offer of $600 for our Festival acquisitions instrument department. The blind widow is in her 80's, she reduced her price for this small TENOR Marimba to $1000. But our contribution is fixed at $600. You want to donate the difference, so the three Music Scholarship students will have a decent Marimba to practice and learn on? Right now, they are learning and practicing on a one octave portable xylophone, which is briefcase small size.

These are the three Music Scholarship Winners for 2006. The scholarship requires each student to learn to play 10 songs on the Marimba before the Xmas Festival in December 2006 for a prize of $250 each. The prize money has been donated by private individuals, both in Belize and abroad and held in an Escrow account at Atlantic Bank in San Ignacio, Cayo, Belize, Central America. The Festival operation itself is paid for by Silvia Pinzon and Ray Auxillou. Prize money comes from donations! The Festival is held in a big tent at Falconview Back Pack Adventure Hostel, in Hillview, Cayo, Belize.

Ramiro Ramirez receiving prize from the MC.


Ramiro Ramirez is 12 years old and lives in San Jose Succotz a Mayan village about 10,000 years old.

Jerry Lin is 14 years old.


Jerry and his parents migrated to Belize five years ago from Taiwan.

Cindy Lin was 9 years old for this photo.


Cindy lives in San Ignacio, Western Belize.

ANNUAL MAYA MOUNTAIN FOLK MUSIC FESTIVAL IS ENTERING IT'S THIRD YEAR. A small Festival intended to promote musical talent, in particular on local instruments. Such as the Bird like Clay Flutes of the Ancient Maya, the jungle hardwood made Marimba instrument and the Belizean Lute, made in Belize and unique to this country.
We have extensive contacts in the tourist business and if you want to come to our ANNUAL FOLK MUSIC FESTIVAL, please feel welcome! We can round out your vacation with scuba diving, accomodations on the Barrier Reef Island of Caye Caulker, or an experience in the jungle at a lodge in the Macal River Gorge, a camping trip into the uninhabited pristine remote Belize Alps, a day trip to local caves, or series of Mayan hilltop pyramid temples explorations.
The ANNUAL MAYA MOUNTAIN FOLK MUSIC FESTIVAL, held each year in the Christmas holidays, in Western Belize in the foothills of the Belize Alps.