Thanks for visiting our site!
Falconview Back Pack Adventure Hostel offers many things! We are your home away from home! In the winter you can live here for $330 usa a month. There are beds ( bunk beds ) and camping sites if you have your own tent, a hammock room, tv., shared kitchen - $11 usa per night plus tax for 2008. We also have a furnished Spanish Mission style colonial apartment for $45 a day, $196 a week, or or $425 a month USA currency. We organize and run the Christmas ANNUAL MAYA MOUNTAINS FOLK MUSIC FESTIVAL here at the Hostel. In August we have the ANNUAL Mountain Bike Race for the "Tour de Belize" and the AUXILLOU CHALLENGE TROPHY. We have a solar oven, organic garden, urban vegetable hydroponics, music lessons, language lessons. We do Mayan pottery, oil painting, knick knacks for the tourist industry as a community service. We are just plain into having loads of fun!

Make this your headquarters and home away from home while
participating in the many adventures in Western Belize.
Ray Auxillou the patriarch of the Auxillou family!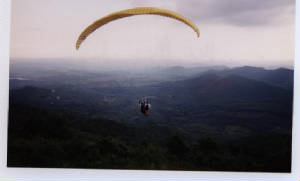 69 years old and still having adventures. Parafoiling in the mountains!